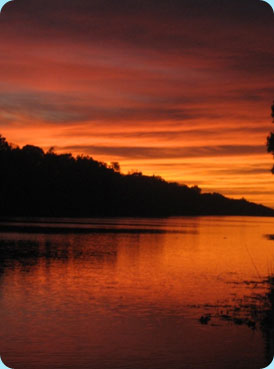 The Amite River Diversion Canal was constructed by the U. S. Army Corps of Engineers in the late 1950's to relieve flooding upstream on the Amite River in Denham Springs and Baton Rouge. The waterway is ten miles long, 300 feet wide and 25 feet deep. It connects the Amite River with the Blind River which flows into Lake Maurepas which connects to Lake Ponchatrian and ultimately the Gulf of Mexico.
The canal was used for many years by the few local residents for boating and fishing. The spoil from digging the waterway was deposited on both banks and after 50 plus years is now firm, high ground on which the various communities are built. Developers cleared and created lots, built streets, installed water systems and wastewater treatment plants which allowed a number of neighborhoods to come into being.
Along the canal today one finds a diverse mixture of camps, mobile homes, condominiums, townhouses and single family homes some valued in the $1million plus price range. Spring and summer weekends brings a flurry of activity all directed toward the waterway. Pleasure boaters, skiers, wake boarders and fishermen all have their favorite spots along the miles and miles of waterways of the Diversion Waterway and adjacent rivers and bayous.